Settling in
Being an outstanding nursery is only the beginning. We believe a child and his or her family need to really get to know and trust us before they can happily leave their most precious little person in our care.
These important relationships begin during visits a few weeks before your child starts nursery. These visits give you and your child the chance to get to know us and to explore our beautiful nursery. Our happy staff team aims to build good relationships with your whole family and form strong attachments with your child. Children only begin to develop their full potential when their personal needs are understood and met. It is essential that they feel socially and emotionally secure, only then will they venture out to learn new things. Your child will gradually begin to build relationships with other children and our friendly team. We find that our youngest children particularly benefit from attending a few short visits alone to build bonds with their Key Person before starting their regular sessions. These settling in sessions are free of charge, as we believe they are vitally important for the wellbeing of child and parents.
Key people
Each child at The Ark has a 'Key Person' who will be responsible for planning exciting, engaging and relevant play experiences, as well as providing lots of cuddles. They will support your child and endeavour to 'tune in' to your child's individual needs, interests and learning. Their focus will be on your child's wellbeing as a whole. This person will be available to discuss any concerns you have and is happy to chat with you on the phone during your child's day.
The Key Person will keep you up to date with your child's development by sending you photographs and observations via our on line package, Tapestry. Parents find it very comforting to see a photo of their little one happily at play during their working days via their phones, laptops or PCs.
Relationships
We believe that children learn well within trusted relationships. The Child Development theorist Erik Erikson suggested eight stages of psychosocial development, with the first taking place in a baby's first year. This first stage is to develop a sense of trust in themselves, other people and the world around them. If a baby develops this within the first year of life then they will move on to the later stages knowing the world is a good place to be in and that adults will be there to support them. The child will learn to trust in their own ability to engage adults' responses (through tears, smiles, sounds, etc.). This engagement of adults is called 'attachment'. Erikson believed that each stage of psychosocial development laid the foundation for the next stage. Other theorists have also suggested that early attachments are the basis for future relationships and development.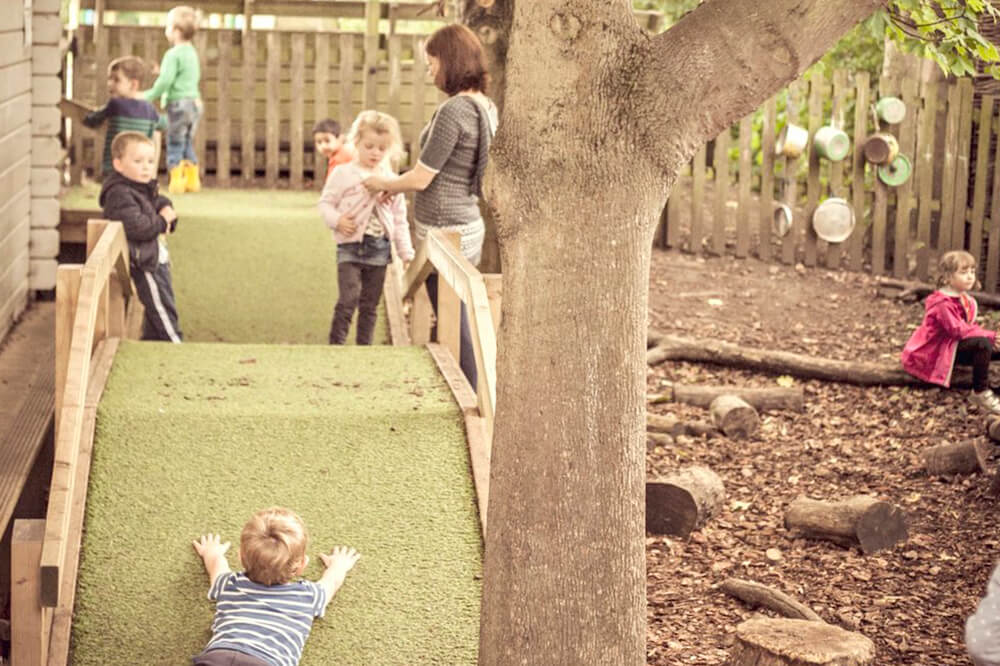 "Children know their needs will be met and are relaxed and confident interacting with Key Persons and all staff, as well as visitors."
Erikson highlighted the importance of having a primary caregiver in nurseries and our Key Person system mirrors this theory, so that each child's Key Person builds a close bond with the child and their family.
All children are unique and we aim to celebrate each child's individuality.
At the Ark, we act as children's play partners and explore together. We also encourage children to work together. For these reasons, relationships form a crucial part of our ethos. Our nursery has been praised by our local Education Authority who remarked that "Children know their needs will be met and are relaxed and confident interacting with Key Persons and all staff, as well as visitors."
Sleep routines
Getting your child into a sleep routine at nursery is a worry that all parents share. We recognise how crucial sleep time is and during your child's settling-in sessions, we will get to know your child's individual sleep routines. We have a separate bedroom with cots, pods and a pushchair to meet your child's individual preferences. We also have a roomy Silver Cross pram which is often used for children who prefer to sleep in the fresh air of our decked area directly outside the baby rooms.
For our older children, we transform the living room into an additional sleeping area after lunch where children can sleep dormitory style on their own mattress cosied up with a blanket. Each child has their own bedlinen provided by us and these are washed weekly in non-bio detergent or of course sooner if needed. If your child has a favourite bedtime toy or blanket then you can bring them into nursery too.
Baby Group
Jo, Vickie and Ellie run a baby group on Friday mornings from 10-11.30am during Lincolnshire term times at The Ark on Kesteven Road. This group is open to all expectant parents and their babies regardless of whether they are registered at the Ark. We started the group to enable parents in the community to meet and support each other. The group is especially helpful for our Ark parents while on maternity leave.